From Collections: Manchester Historic Association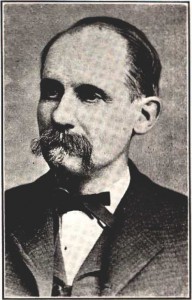 Sylvester C.  Gould
(1840-1909)

He lives not in vain who leaves one friend to mourn his  loss.  If this  is  true, well  indeed has he lived who leaves many to count his virtues, and recall with kindly thought the good that he did, the kind words that he spoke, the thoughtful  zeal with which  he performed  the duties that fell to his lot.  The subject of this Memoir was modest of his accomplishments, a plodder in his work, sowing without reaping, toiling without rest. It was those who knew him best that loved him most. Of a studious mind, he was versatile in his researches.  We cannot do better  than  to incorporate the sketch of  this nestor of  the New Hampshire press, given by the  Daily  Union at the time of  his decease on the afternoon of July 19, 1909:
Sylvester Clark Gould was born in Weare, March 1, 1840. From 1854 to 1858, he was employed as clerk in a dry goods and grocery store. In 1859 and 1860 he attended school at the Boscawen Academy, of which Jonathan Tenney was principal. He entered the office of the Daily and Weekly American, February 24, 1862, where  he learned the printer's trade.
These journals were published and edited by Simeon D. Farnsworth, who, on being appointed paymaster in the army, leased the newspaper establishment, April 17, 1863, to Henry A. Gage, James O. Adams and Orren C. Moore, which was run under the firm name of Gage, Moore & Co. On August 13, 1863, Mr. Gould purchased the interest of O.C. Moore in the lease; Mr. Moore still acting as editor, Henry A. Gage as publisher, James O. Adams as reporter and Mr. Gould as clerk and telegraphic reporter.
On December 24, 1863, S. D. Farnsworth, returning on a furlough to Manchester, bought off the lessees and sold the newspaper establishment to John B. Clarke, and the papers were published as the Mirror and American. From this time to March 16, 1864, Mr. Gould settled up the affairs of the American office as compositor, job printer, and temporarily as reporter, until  December 24, 1868.
On January 1, 1869, John W. Moore, Samuel C. Mer­rill, Charles W. Clough and Mr. Gould associated themselves together under the firm name of John W. Moore & Co., and began the publication of the Daily News. In February, 1869.  Mr. Gould disposed of his interests to J. W. Moore and entered the Daily and Weekly Union office as compositor, and continued until July 5, 1869, when he again entered the Mirror office as job printer, and continued until May 1, 1871.
Mr. Gould entered the service of the Concord Railroad in 1871, and in 1874 became depot master at the passenger station, under Maj. Josiah Stevens, who was station agent, and he continued in that capacity until early in the 90's.
Mr. Gould had a mathematical rather than a literary mind and, though not a fluent writer, be possessed a wonderful faculty of research, especially along the lines of the mystic and occult knowledge. He was never happier than when solving some intricate problem or delving deep into the lore of a forgotten or hidden art. He was an indefatigable collector of books along unusual lines, so at his death he had a library of considerable size, many of his books first editions and valuable. He had, with possibly one exception, the largest and finest personal collection of Homeric works in the country, consisting of over one thousand volumes.
In July, 1882, in association with J. L. Webster of Norfolk, Va, he began the publication of a monthly magazine, entitled "Notes and Queries," and devoted to historical and miscellaneous matter. Upon the decease of Mr. Webster, a few years later, Mr. Gould continued the publication of the magazine, though, out of courtesy, adding the name of his brother, Leroy M. Gould, now deceased, to the name of the firm. For a year, George W. Browne was associated with him, but the magazine was a child of Mr. Gould's brain and bore the unmistakable trade mark of his mind. It was continued until his failing strength compelled him to abandon the task, leaving the last volume incomplete. Devoted to abstruse and scientific subjects, with generous space devoted to matters relating to the Masons and Odd Fellows, it came to be prized by those interested in such affairs. Naturally having a limited circulation, it nevertheless went to all parts of the globe.
Deeply interested in fraternal societies, Mr. Gould gave several addresses that were preserved in printed form and make publications of value to the student and seekers after knowledge along their particular sources of thought. Among these may be mentioned "The Master's Mallet," "The Staff of Adam." He was an active member of the town committee for the publication of the history of Weare and did much towards the publication of that excellent work. He wrote several poems for special occasions, and was a felicitous speaker.
He was a charter member of the Manchester Historic Association and was one of the publication committee from its organization. He compiled a bibliography of Manchester literature, over two thousand titles; a bibliography of Gen. John Stark, about one hundred titles; a list of New Hampshire Election Sermons, and prepared an article on the origin of the song, "The Sweet Bye-and-Bye," all but the first for this society.
Mr. Gould was a 32nd Degree Mason, and a member of the Boston Consistory. He was a member of Lafayette Lodge, No. 41, of this city; of Mount Horeb Chapter, No. 11, Royal Arch Chapter; of Adoniram  Council, No. II, Royal and Select Masters, and of Trinity Commandery, Knights Templar. He was also a member of the Brother­hood of Rosicrucians of Boston, and also of various other Masonic bodies having jurisdiction elsewhere than in New Hampshire.
He was an Odd Fellow, and was a member of Hills­borough Lodge, No. 2, of which order he was a past grand master and a past grand representative. He was also attached to the Encampment. For many years he was secretary of the Veteran Odd Fellows' Association, and was at one time the president of that body. He was secretary for many years of the Odd Fellows' Relief Association. He was a member of Arbutus Lodge of Rebekahs. He was a member and corresponding secretary of the New Hampshire Press Association. He was also a member of several foreign societies, some of them of high standing. though the writer of this cannot give their names.   He had a wide correspondence and was in touch with many per­sons of exalted ideas, and proved himself a man of high attainments, though the thoughts that appealed to the many were not those that abided with him.
A tireless worker, he found little time for rest, until at last the day came when the tired hand was compelled by a higher will than man's to become idle. Even then, in his last moments, the brain continued its battle, while the lips slowly gave utterance to those terms which showed that he was still busy trying to solve some mathematical problem. In the midst of this study, the great change came, and like one groping for the solution of a strange question, prophetic of his life work, he lifted his hand for the last time, saying with faltering voice: "It is growing dark; turn on the lights." These were the last words of a type of man such as rarely comes into our Associations spoken at 3 o'clock on the afternoon of July 19, 1909.
Mr. Gould married Miss Fannie E. Sherburne, who survives him, as well as a daughter, Miss Annie L. Gould; one brother. Rodney W. Gould, of Weare; a nephew, Harry B. Gould, of Hartford, Conn.; and a niece. Miss Ada W. Gould of Lakeport, N. H.
_____________________________________________________